Yemen: Aden hit by worst clashes in years
Comments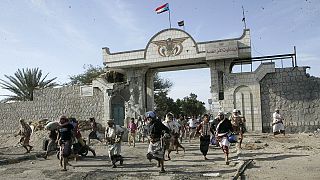 Violence in the southern Yemeni city of Aden has left at least 13 dead.
Militia loyal to the country's former president Ali Abdullah Saleh have been locked in a fierce gun battle with government forces, after storming the international airport.
At least two shells hit the grounds and more than 100 passengers had to be rushed off a plane bound for Cairo amid the fighting.
It is the latest assault against internationally backed president Abed Rabbo Mansour Hadi, who fled from Sanaa to Aden last month.
An unidentified warplane also attacked the presidential palace in the city.
Hadi described Thursday's violence as an "attempted coup."
It comes as Yemen faces a deepening power struggle between the president and the Shi'ite Houthi group, which controls the capital and is allied with Saleh.