Sydney cafe reopens three months after deadly siege
Comments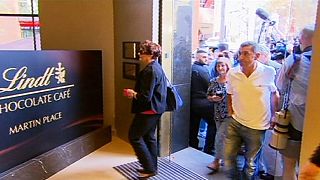 A Sydney cafe has reopened for the first time since being the scene of a deadly siege.
Gunman Man Monis took 18 hostages at the Lindt cafe three months ago.
Plaques have gone up in memory of two people who were killed during the 17-hour standoff.
The gunman, an Iranian-born self-styled cleric, also died – when police stormed the building.
"It feels fantastic. It's good to see that, you know, they were brave enough to reopen the store. It would have been devastating had they not done that," said one cafe customer.
Four people were also wounded in December's siege, including a police officer and a 75-year-old woman.
The attack prompted tighter Australian immigration controls. It also led to a review of anti-terror laws.