Japan remembers the deadly metro sarin attack 20 years on
Comments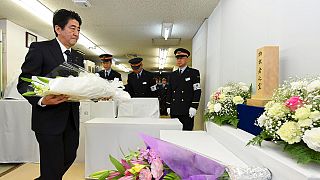 Twenty years ago the normally bustling Tokyo metro was brought to a standstill when a deadly sarin attack struck the city's underground system.
On Friday, once again the metro was hushed to observe a moment's silence in memory of the 13 people who lost their lives and the thousands of others sickened by the poisonous gas.
Prime Minister Shinzo Abe laid white lillies at the memorial and vowed to do his utmost to ensure "that this sort of incident never happens again".
To date 192 members of the cult behind the attack have been sentenced on criminal charges. For many the anniversary acts as a reminder that safety can't be taken for granted.
On 20th anniversary of Tokyo sarin attack, widow urges Japan to never… http://t.co/0yj7obseJp#Tokyo#Japan#Newspic.twitter.com/PTfwgSxBIb

— Breaking Tokyo News (@FollowTokyoNews) March 20, 2015