Cash-strapped Greece struggles to meet education challenge
Comments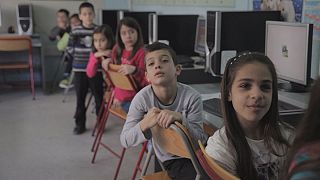 How is education in Greece surviving the country's tough austerity measures? What are the new government's plans? And how can Greece tackle the issue of integrating immigrants into hard-pressed schools? This edition of Learning World goes to Athens to find out.
Will others benefit from Greece's higher education?
Athens University has some world-class departments, but faces huge cuts in facilities and equipment. It knows it is preparing its students for a domestic labour market that has no jobs for them, so graduates are likely to join a brain drain abroad.
Reforming schools around pupils and their needs
Greek schools are making efforts to broaden their curricula and offer more extras to pupils while at the same time coping with reduced budgets. While new subjects like English from an early age, theatre studies or computer science are welcome, parents still worry their children are not getting what they need for the future.
Integrating immigrant pupils starts by bringing families to school
Greece, like many austerity-hit European nations, is suffering an extreme right-wing backlash against hard times' usual scapegoats, the latest immigrants. In some cases their children have not been made to feel welcome at school, so a new approach has been taken that seems to be working.
How has austerity affected the education system in your country? Share your comments in the section below or on twitter. Learning World always loves to hear from you.