Dozens of long-haul flights cancelled on day two of Lufthansa pilots' strike
Comments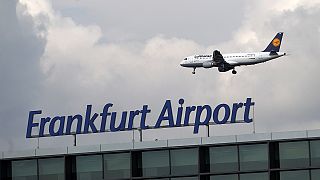 Thursday has brought more misery for passengers of German airline Lufthansa, as a pilots' strike continues into its second day.
After short and medium-haul flights on Wednesday, long-haul travellers now risk going nowhere, with dozens of flights cancelled in a long-running row over early retirement benefits.
Lufthansa has announced the cancellation of 84 of its 153 long-haul flights on Thursday, but said it would operate all cargo flights.
There is more to come on Friday, however, with a third consecutive day of industrial action planned.
Despite the exasperation of many ticket holders, Ermelinde Nikolai, a passenger at Munich Airport, said she does have some sympathy for the striking pilots.
"I think they have a lot of stress. And I think It is only right that they can retire early," she said.
Some 750 flights were cancelled on Wednesday in what is the 12th such walkout by pilots from the Vereinigung Cockpit (VC) union, defending their early retirement scheme.
Lufthansa is trying to cut costs and expand its budget operations, as it competes with low-cost carriers like Ryanair and easyJet in Europe and Gulf rivals such as Emirates.
VC stressed it did not seek to block the company's strategic decisions, only set contract terms for pilots.
"Competition must not lead to a sell-out of the values that have helped make Lufthansa one of the world's leading airlines," VC spokesman Joerg Handwerg said in a statement.
Lufthansa in response asked pilots to return to the negotiating table.
Its Chief Executive Carsten Spohr has vowed to stay firm in the dispute and has said Lufthansa will increase fleet and staff numbers at its main passenger operations only if employees agree to concessions.
Short and medium-haul flights are expected to be hit all day on Friday.
Lufthansa is not the only European carrier to have faced disputes with pilots over containing costs – both Air France-KLM and Norwegian Air Shuttle have been hit by costly strikes in recent months.