Israel election winner Netanyahu seeks Knesset majority
Comments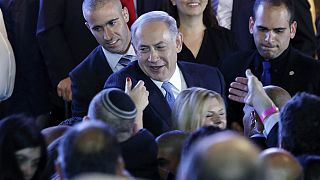 Confounding his critics and the opinion polls, Prime Minister Benjamin Netanyahu is celebrating a surprise victory in Israel's general election.
His next challenge will be putting together a stable coalition.
Netanyahu's right wing Likud Party won 30 seats in Tuesday's poll.
His main centre-left rival, the Zionist Union, took second place with 24 seats while a united list of Arab parties came third.
It amounts to a dramatic and unexpected victory.
The last opinion polls published four days before the vote showed the Zionist Union with a four-seat advantage over Likud, which now needs allies to form a majority in the Knesset.
Netanyahu must assemble 61 seats and crossing that threshold will be challenging given the amount of division across Israel's political landscape.
"The citizens of Israel expect us to quickly put together a leadership that will work for them regarding security, economy and society as we committed to do – and we will do so," he told triumphant supporters in Tel Aviv.
Poised for a fourth term as prime minister, Netanyahu intends to seal an alliance within weeks.
Likud says talks with pro-settler, ultra-Orthodox and centrist parties are already underway.
The critical party to get on side will be the centrist Kulanu party, led by former Likud member and communications minister Moshe Kahlon, who won 10 seats, making him a kingmaker given his ability to side with either Netanyahu or the centre-left opposition.
In a four-day pre-election blitz, Netanyahu made a series of promises designed to shore up his Likud base and draw voters from other right-wing and nationalist parties.
He pledged to go on building settlements on occupied land and said there would be no Palestinian state if he was re-elected.
Zionist Union leader Isaac Herzog conceded defeat, saying he had called Netanyahu to congratulate him.
But he was defiant in defeat, saying:
"I'd like to make it clear to the Israeli people that the challenges are the same, the problems are the same, nothing has changed," he said.
"Tzipi Livni and I will continue leading the Zionist Union with force… as an alternative in each and every aspect."
If Netanyahu manages to pull together a workable coalition, it would give him a fourth-term in office, putting him on track to become Israel's longest-serving prime minister, a label held by the country's founding father, David Ben-Gurion.
From the Palestinian point-of-view, the results are a deep concern, raising the prospect of more settlement expansion on land they want for their own state in the occupied West Bank and East Jerusalem, as well as in Gaza.
Saeb Erekat, chief Palestinian negotiator in peace talks with Israel that collapsed in April, told Reuters on Tuesday: "Mr. Netanyahu has done nothing in his political life but to destroy the two-state solution."