French comedian Dieudonné guilty of condoning terrorism
Comments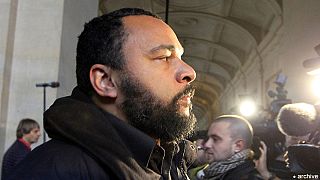 French comedian Dieudonné has been given a two-month suspended jail sentence after being found guilty of condoning terrorism by a Paris court.
Days after the Paris terror attacks he wrote on Facebook that he "felt like Charlie Coulibaly", the last name referring to one of the gunmen.
"I am Charlie" became a the slogan of solidarity following the attacks. Amedy Coulibaly killed a policewoman a day after the Charlie Hebdo attack and four Jews in a raid on a kosher supermarket two days later.
Dieudonné, who was not in court on Wednesday, has seven convictions for slander or anti-Semitic statements and his shows have been banned in some cities as a threat to public order.
The comic insists he is not anti-Semitic.