Rousseff vows to combat Brazil's corruption after mass protests
Comments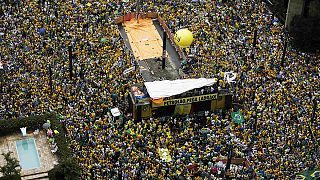 The Brazilian President Dilma Rousseff has vowed to step up the fight against corruption following mass anti-government protests.
But she has suffered a further blow after prosecutors charged a leading member of her party.
Millions of people took to the streets on Sunday, also denouncing a sluggish economy, rising prices and high inflation.
The president responded after meeting her ministers, saying Brazil needed the right institutions and laws to tackle corruption.
"All of us here are in complete agreement with this demand by the people, and have a clear determination to take measures that intensify the fight against corruption," Rousseff said.
The Treasurer of Rousseff's ruling Workers' Party Joao Vaccari is one of 27 people to be charged with corruption linked to the energy giant Petrobras.
He is accused of soliciting donations from former Petrobras services chief Renato Duque and executives at engineering firms.
Prosecutor Deltan Dallagnol said the authorities had "ample proof", adding that Vaccari was well aware the donations he was seeking consisted of funds stemming from bribes.
Much of the evidence, he said, came from plea bargain deals with executives charged and jailed last year.
The Workers' Party denies the accusations, insisting the donations it received were legal.
Rousseff herself is not being investigated but served as chair of Petrobras' board when the kickbacks took place.
Brazilian political scientist Paulo Baia believes the anti-government demonstrations are an ominous sign for Rousseff, coming just months into her narrow re-election victory.
"Those who went to the streets yesterday are disgruntled, it was a large part of society, and it will grow in the streets if she (Rousseff) doesn't truly listen to this movement and doesn't take concrete measures to reinvent the government," he said.
Despite the calls for her to go, Rousseff is not expected to step down.
But with the economy stagnant, protesters' anger at high-level corruption is heightened.
Unless that improves, the pressure on Rousseff and her government is likely to intensify.