Cyclone Pam: Clean-up begins on storm-ravaged Vanuatu
Comments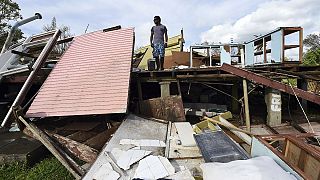 Three days after Cyclone Pam, people in the shattered capital of Vanuatu are taking stock of the damage and trying to salvage what remains.
But in Port Vila and elsewhere in the South Pacific island nation, people are still stunned by the category five storm.
Rose Harry, a resident of the outer island of Tanna, described how she sat out the cyclone.
"We don't know what to do. We collect the mattress and put it against the window," she said.
Aid teams have landed on Tanna but Vanuatu has 65 inhabited islands – many of them difficult to reach – and time is of the essence.
"The priority at the moment is clean water, food relief, temporary shelter" said Alex Snary of the World Vision humanitarian aid organisation.
"These are the life sustaining elements that we need to get in place and we need to get them in a hurry."
Saving lives is the aim. It is still unclear how many the cyclone claimed. The UN has revised its figure down to 11 but it is feared that could rise.
Among the thousands of homeless, the very young are especially vulnerable.
The UN children's agency Unicef is doing what it can to ensure their education in some form continues, with schooling helping children to adjust and overcome the trauma they have suffered.