Putin is back! Russia leader reappears, laughing off rumours about long absence
Comments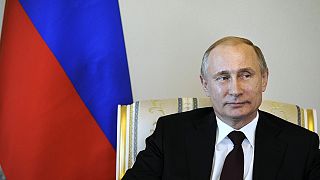 Russia's Vladimir Putin has made his first public appearance since March 5 and laughed off
speculation about his extended absence, saying "things would be boring without gossip".
Things would be boring without gossip
Meeting the leader of Kyrgyzstan, who vouched for his host's good health, Putin made his return after days of rumours, despite official insistence in the corridors of power that it was business as usual.
In a carefully choreographed double-act, Kyrgyz President Almazbek Atambayev said that Putin "just now drove me around the grounds, he himself sat at the wheel" after they met in St Petersburg.
Looking relaxed if pale, Putin smiled easily as he sat before television cameras in the Constantine Palace in Russia's second city.
Since he was last seen welcoming Italian premier Matteo Renzi to Moscow on March 5, Putin has been the focus of frenzied theories on everything from the state of his health to his grip on power and whether he went to Switzerland to watch his girlfriend give birth.
The Kremlin has denied all the claims.
The Russian leader, 62, prides himself on a macho image, saying in 2008 that he worked like a "galley slave" to run Russia.