Poroshenko: EU should threaten Russia with more sanctions over Ukraine
Comments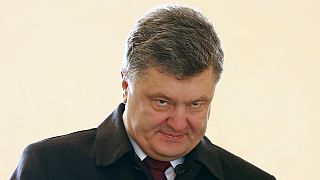 The Ukrainian President Petro Poroshenko has said he agrees with the German Chancellor that there's no alternative to the Minsk ceasefire agreement.
At a joint news conference in Berlin during Poroshenko's official visit to Germany, the president again said Russian-backed separatists were flouting the accord.
Merkel said no decision on whether to extend EU sanctions against Russia would be taken before June.
Poroshenko hoped this week's summit in Brussels would make it clear more measures would follow if the Minsk agreement was not fully implemented.
The president, who earlier called for more non-lethal military aid, thanked Germany for its pledge of 500 million euros to help Ukraine's economic reforms.