Vanuatu: Aid teams start arriving after 'monster' cyclone
Comments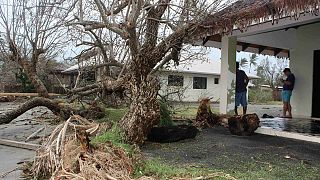 Aid teams have started arriving in cyclone-hit Vanuatu, as the scale of the disaster begins to unfold.
The Pacific island paradise is now a scene of devastation, after being hit by Cyclone Pam.
Fuelled by winds of more than 300 kilometres per hour, the storm destroyed everything in its path when it hit on Friday and into Saturday.
One resident, in the capital Port Vila, said her children were terrified.
"They (children) were really scary (scared). They cried and I cried also, but I just have to be strong for them. We are all alive, we survived here," she said.
Another Port Vila resident added: "It just destroyed our buildings. I (have) never seen such a cyclone like this before."
Eight people are confirmed dead, but that number is expected to rise as the scale of this disaster – spread across 83 islands – unfolds.
Vanuatu's president, who was away at a disaster risk conference in Japan, has likened the storm to a "monster."
For the aid workers and rescue teams, the task ahead is huge. With so many islands to cover, it is clear that it will be some time yet before everyone can be reached.