Cyclone Pam: Vanuatu scene of 'complete destruction,' aid worker tells euronews
Comments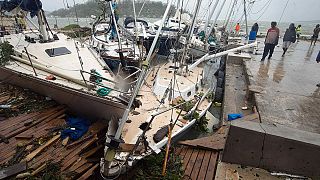 Alice Clements, who works for the aid organisation UNICEF in the Vanuatu capital Port Vila, has told euronews that Cyclone Pam is the worst storm to hit the South Pacific.
"We ventured out this morning to have a look around and really it was a scene of pretty much complete destruction. You know, buildings have lost roofs, the buildings have either fallen over or have problems with structural integrity. Power lines down, trees and debris are all across the roads," explained Clements.
"We had to walk wherever we went because the roads, cars couldn't get more than 50 metres without having a tree or power lines in the way. And this of course is hampering the assessment of anywhere beyond the capital city really, to understand the scale and the impact of this storm," she continued.
"I had the luxury of being in a very strong hotel, even then I had the door ripped off and ended up under the bathroom sink for the night. And there are far too many people who simply didn't have adequate shelter for this storm. So we are very concerned about their wellbeing."
Jayleen, 21, sheltered a 1-week-old baby from #CyclonePam. "The roof blew off and the rain was pouring inside" #TCPampic.twitter.com/AMVh5TqtB3

—

UNICEF

Australia (@unicefaustralia) March 14, 2015