Tiny Pacific Vanuatu cleans up after devastating Cyclone Pam
Comments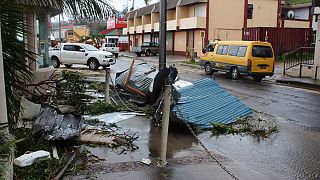 Vanuatu has been counting the cost of Cyclone Pam, which has wrecked the tiny Pacific nation and taken an unknown number of lives.
The first aid shipments have left for the island, which reported being hit by winds of more than 185 MPH.
At least eight people have been killed but with 83 far-flung islands to check the death toll could be higher once everyone is accounted for.
The destruction is tremendous, with homes smashed and infrastructure torn apart. Boats have been flung far from water, and crops have been uprooted. Flash floods and a tidal surge combined to make many homeless.
The president was out of the country at the time, ironically at a disaster risk conference. He is now trying to return, but the main airport has only just reopened for humanitarian flights only. Thousands of people have been made homeless, and the challenges facing the island to rebuild are huge.
"I cannot imagine how long it's going to take to work in Port Vila alone, so we're talking months to maybe a year, maybe even longer, to be able to get, to help this country recover and to help the people of Vanuatu to recover from this devastating event," said CARE International Programme Manager Charlie Damon.
New Zealand was the first nation to send aid. Britain has already promised financial aid and the UN and Red Cross have sent teams, but for one of the world's poorest countries Cyclone Pam has been a disaster.