Brazil protests call for Dilma Rousseff's impeachment
Comments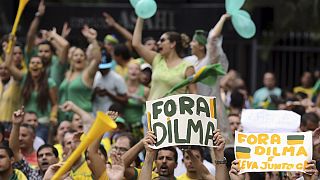 Hundreds of thousands of Brazilians marched peacefully on Sunday in over 50 cities around the country to demand President Dilma Rousseff's impeachment and to criticise government corruption.
Police estimated 15,000 people marched along Copacabana beach in Rio de Janeiro, where they waved Brazilian flags and many openly called for a military coup to dissolve the government.
The biggest protests were in Sao Paulo, an opposition stronghold where hundreds of thousands gathered on a main avenue, as well as in the capital city Brasilia and Rio.
In Brasilia, police say 45,000 people gathered on the Ministries' Esplanade, while 24,000 people demonstrated in Belo Horizonte, according to military police.
Dozens of cities saw demonstrations gathering together a few thousand people each.
According to the website of the Globo TV network, Brazil's largest, the total number in the streets across Brazil was over 300,000 people, based on local police estimates.
Much protester ire was focused on a kickback scheme at state-run oil company Petrobras, which prosecutors call the biggest corruption scheme ever uncovered in Brazil.
At least 800 million US dollars (around 760 million euros) was paid in bribes and other funds by the nation's biggest construction and engineering firms in exchange for inflated Petrobras contracts.
Top executives are already in jail and the attorney general is investigating dozens of top congressmen, along with current and former members of the executive branch, for alleged connections to the scheme that apparently began in 1997 before Rousseff's party took power in 2003.
Rousseff, a former chairwoman of Petrobras's board, has not been implicated and so far is not being investigated, though top officials from her administration, including two former chiefs of staff, are caught up in the inquiry.
The marches add pressure on Rousseff, whose poll ratings have never been lower and who is facing duel economic and political crises.
Brazilian growth has been weak since Rousseff took office in 2011.
The country likely entered a recession in 2014 and most economists surveyed by the Central Bank forecast negative growth for this year.
Inflation is rising and the local currency has plummeted against the dollar in recent weeks, making life more expensive in a nation with a surprisingly high cost of living and one of the world's heaviest tax burdens.
(AP)