Pinturault and Hirscher claim wins at Kransja Gora
Comments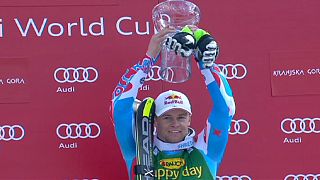 It was a day of titles on the slopes of Kransja Gora. Alexis Pinterault claimed his second win of the season in the Men's Giant Slalom after his victory in the super combined at Kitzbuehel.
The Olympic Bronze medallist took the lead after the first run, was quicker on his spectacular second down the Slovenian slopes in which he took a few risks to increase the time gap and win 0.68 seconds ahead of three-times World Cup champion Marcel Hirscher.
One race left in the season to catch Hirscher in the overall standings. He trails the Austrian by 185 points.
Second place for Marcel Hirscher but he sealed the World Cup giant slalom title and took another step towards the overall prize.
It also meant he left his nearest rival in the race for the overall title's big globe, Kjetil Jansrud 124 points behind after the Norwegian could do no better than 23rd.
After the race Hirscher told reporters he had spent most of the last two years working on his giant slalom skills at the expense of the slalom.
It was the Austrian's second giant slalom title after American Ted Ligety dominated the last two editions.
Third place was taken by Thomas Fanara. The Frenchman was 0.93 seconds off the pace.