New Japan bullet train route links Tokyo with Kanazawa
Comments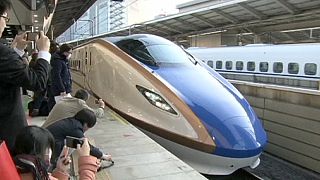 Japan has launched a new bullet train service linking Tokyo with Kanazawa.
Operating at speeds of up to 260 kilometers an hour it will cut travel times to the ancient city by more than an hour to two hours and 28 minutes.
"Whether it's for business or tourism we hope to create a new type of mindset and improve the areas involved," said East Japan Railway CEO Testuro Tomita.
"For those areas in the countryside, we hope to improve their economies and make them more active. So for all these problems that Japan has, we hope to help solve them. We hope to be the trigger," Tomita added.