Five-day-old baby killed in Serbia military helicopter crash
Comments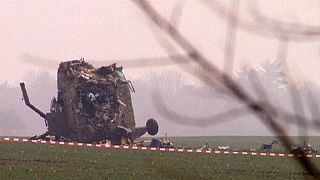 A Serbian military helicopter evacuating a sick baby from the south of the country has crashed near Belgrade, killing all seven people on board.
The aircraft was dispatched after an ambulance carrying the baby got stuck by a landslide blocking the road.
Serbia's state TV said the Russian-made MI-17 transport helicopter had four crew members, two medical workers and the five-day-old baby with life-threatening respiratory problems.
The crash occurred in foggy weather, which had caused several commercial flights to be rerouted to other destinations.
The military said all contact with the aircraft was lost after it apparently tried to make an emergency landing while running out of fuel near the airport.
Floodlights at two of Belgrade's biggest soccer stadiums were lit to help the pilots to find a spot to land.
The helicopter was dispatched to the southern region of Raska after an ambulance transporting the baby to an emergency hospital in Belgrade got stuck by a landslide blocking the road.
Serbian Prime Minister Aleksandar Vucic declared Sunday a national day of mourning and offered condolences to the families of the victims.