Spectator causes Loren Rowney to crash out of cycle race
Comments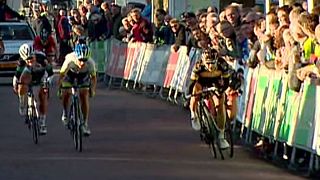 An Australian cyclist was involved in a serious crash after a spectator attempted to touch her bike as she sprinted to the line.
Loren Rowney was cycling next to the hoardings in the closing stages of the Molecaten Drentse 8, in the Netherlands. As she approached the finish line a hand appeared over the barriers and attempted to touch her bike.
The rider, who was flung over her handlebars, managed to crawl to the finish line in seventh place. She is thought to have suffered a broken collarbone and will take no further part in the race.
Race winner Giorgia Bronzini, a two-time world champion, said in the Sydney Morning Herald: "I thought at first that maybe it was my fault."
"But I've already seen the footage and it looks like a spectator grips her wheel. Very strange."