UN resolutions have 'failed' people of Syria, say aid groups
Comments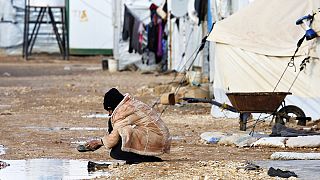 The United Nations Security Council has been accused of failing to alleviate the suffering in Syria, in a report compiled by more than 20 aid agencies and humanitarian groups.
It says that last year was the worst of the conflict so far. Three UN resolutions were passed in 2014, demanding an end to arbitrary killings and torture, and the removal of barriers to aid.
But the report's authors say they had little effect.
"If you look across the indicators which we have analysed, there have been more killings, more bombings, a massive increase in displacement and a huge increase in the number of people that are in need of humanitarian assistance inside Syria," said Daniel Gorevan, Syrian policy adviser at the British charity OXFAM.
Security Council members, including Russia and the US, are accused of failing to implement their own resolutions by neglecting to put pressure on warring parties to stop indiscriminate killing and improve access to aid.
''Our conclusion is that the Security Council resolutions have essentially failed in what they set out to do, which was to provide greater protection and assistance to the people inside Syria," Gorevan said.
The Syrian government comes in for criticism. The report says in 2014 Damascus approved fewer than half of its convoys to besieged or "hard-to-reach" areas in Syria. The UN does not operate in zones controlled by the extremist self-proclaimed Islamic State.
The report also says humanitarian funding has been cut.
Of the cash needed for refugees and civilians inside Syria, only 57 percent was actually provided last year – down from 71 percent in 2013.
Neighbouring countries such as Turkey and Jordan are accused of undermining the United Nations by imposing restrictions on aid operations into Syria. A resolution in July authorised the UN to undertake cross border operations without the consent of Damascus.
The complete Failing Syria report is published four years after the start of the Syrian conflict in March 2011. Protests against the government descended into civil war that is estimated to have killed more than 200,000 people.
The 21 organisations that wrote the report are:
Alkarama Foundation, American Friends Service Committee,
ChildrenPlus, Global Centre for the Responsibility to Protect, Hand in Hand For Syria, Handicap International,
Human Rights and Democracy Media Center (SHAMS), International Rescue Committee, Medecins Du Monde,
Norwegian Church Aid, Norwegian Refugee Council, NuDay Syria, Oxfam, Pax Christi International, Save the Children
Syria Relief Network, Syrian American Medical Society, Tulip for Syria Relief, Un Ponte Per, World Vision International
In a separate report published this week, two UN agencies paint a bleak picture of life in Syria.
It says four out of five people are living below the poverty line, the population has shrunk by 15 percent, and life expectancy has plunged by 24 years, from an average age of 79 to 55.