Shooting for the starts - British soprano plans a live concert from space
Comments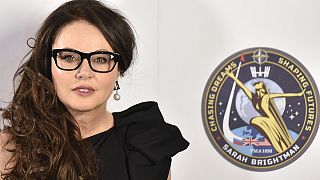 British soprano Sarah Brightman is training for the gig of her life and preparing for a unique performance: a live concert from space.
The fifty-four year old is to travel next September as one of a three-person team to the "International Space Station"http://www.spaceadventures.com/experiences/space-station/ in a Soyuz rocket.
The singer was assessed for suitability for the trip in 2012 and since then has undergone gruelling training.
She has reportedly paid 49 million euros for the privilege.
"The training, it's hard, I mean there is no denying that and it's probably not for everybody. But I m learning huge amounts just about myself doing it, what I am capable of," said Brightman.
Brightman who even has her own space logo, plans to perform a song not yet chosen once on the ISS, accompanied by an orchestra back on Earth.
She's been working with her ex-husband, composer of hit muscials including "Cats" and "Phantom of the Opera".
One of her early hits 'I Lost My Heart to a Starship Trooper' might fit the bill.
Whatever song she choses, the one-time star of 'Phantom of the Opera' will be hoping to emulate the stratospheric success of astronaut but albeit amateur singer Chris Hadfield and his rendition of the David Bowie hit 'Space Oddity'.