Budapest will host 2017 FINA World Championships
Comments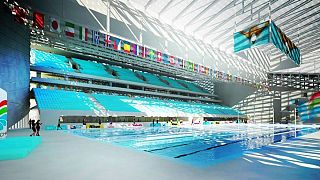 Budapest has been confirmed as the host of the 2017 Fina World Championships after Guadalajara, Mexico withdrew last month due to budget shortfalls.
The Mexican city which hosted the 2011 Pan American Games withdrew last-minute due to financial problems fueled by the global drop in oil prices.
The deal was announced by Cornel Marculescu, the Fina Executive Director, after the Fina Bureau members held a vote by email. The majority voted in favour of Budapest, which had initially been awarded the 2021 World Championships.
Fina will re-run the bidding process for the 2021 edition for the Championships.
Although various cities had offered to take the place of Guadalajara, Fina Vice-President Tamas Gyarfas explained to Euronews that Hungary's excellent track record in hosting major swimming events last-minute may have been the deciding factor.
"​It was the best option because everybody supported (Budapest). Hungary has hosted seven European Championships; three long course, three short course and one junior. We won the support of the Fina Bureau."
Hungary had previously agreed to take the place of Israel for the Junior Open Water World Championships in 2014 and the European Swimming Championships in 2012 when Antwerp was unable to organise the Championships.
Gyarfas also suggested that Hungary could use the World Championships as a springboard to submit a bid for the 2024 Olympic Games if the event is a success.
"Swimming is one of the most popular sports in the world, so I think everybody will follow this event," he said. "If we are successful, we will have the chance to gain the support of the Hungarian Olympic Committee. That is very big motivation."
This year's Fina World Championships will be held in Kazan, Russia.
Article by Hugo Lowell