Back to the battlefield for Napoleon's hat
Comments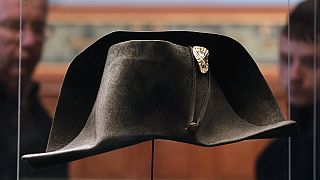 A unhappy trip down memory lane for Napoleon's hat, as it left for Waterloo for the bicentenary commemorations of the battle which led to his demise as Emperor of the French in 1815.
The iconic two-cornered headpiece will be on display from March 21 to July 31 at the Wellington Museum in Belgium.
Napoleon's 'bicorne' left the museum in Sens today and is headed to @Waterloo2015_BE . http://t.co/6CLu0PrhxLpic.twitter.com/8hTOuiwmrA

— Waterloo 2015 (@Waterloo2015_BE) March 11, 2015
Last year another of Napoleon's hats fetched 1.9 million euros at auction. It is believed to be just one of 19 of his hats still in existence.
Napoleon declared himself Emperor in 1804 and wages war against European powers, conquering much of the continent before his exile and then defeat in 1815.