Boko Haram 'loses ground' in Nigeria
Comments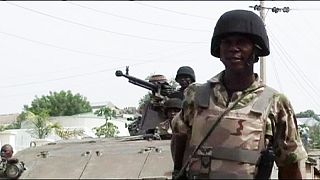 Military sources in Nigeria say their ground forces are starting to reclaim areas seized by Boko Haram militants.
In the past months, the Islamist group has taken control of Nigerian towns and military bases in the northeast, but the army says normalcy has now been restored to some regions.
Lieutenant Colonel Asuqou Eka, the Commanding Officer of the Nigerian troops, made the announcement.
"We have claimed all captured territories," he said. "As we are speaking, Madagali is the only local government which is yet to be recovered, so normalcy has been restored."
A multinational force has been mobilised to help Nigeria defeat Boko Haram. In recent days, thousands of troops have crossed the country's northern and eastern borders with the aim of taking back key towns.
Some 8,700 soldiers have been deployed from Nigeria, Cameroon, Chad, Niger and Benin.
Military sources from Niger and Chad said 15 soldiers from the five-nation coalition died in a joint offensive over the weekend of March 7-8, 2015.
A second Niger military source claimed 300 Boko Haram fighters had been killed in the same operations, although there is no official confirmation of the death toll.