Thousands march on Selma to mark 'Bloody Sunday'
Comments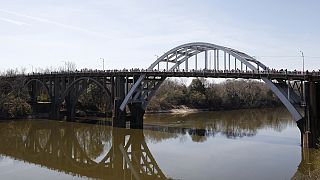 Fifty years ago a march by black Americans in the town of Selma in Alabama marked a turning point in the US civil rights movement.
Calling for equal rights around 600 peaceful protesters were set upon by white police who beat them with batons.
This weekend a good natured rally was held to commemorate what became known as the Bloody Sunday march.
The anniversary comes at a time of renewed focus on racial disparities in the United States and anger over the treatment of black civilians, among them 18-year-old Michael Brown whose killing by a white police officer in Ferguson, Missouri, last year sparked widespread protests.