Watch: Iraqi militia chief shot during television interview
Comments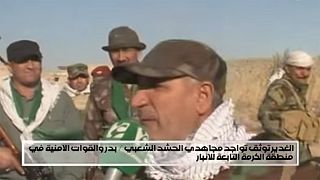 This footage captures the remarkable moment a military commander in Iraq was shot while giving a television interview.
Mohamed Abu Ali Al Jubirawi, who leads a Shia militia fighting ISIL in Anbar province, was targeted by a sniper on March 7, according to news agency Storyful.
But the shooting [see 21:50 in the video] did little to temper Jubirawi's determination to finish the interview – he is later shown speaking into a microphone from his hospital bed.
"I will pick up from where I left off before the shot," said Jubirawi, lying down, still in his military fatigues. "The operations are all ongoing, all the security organs and popular mobilisation units and jihadi brigades are continuing their advances."
The video was produced by Iraqi channel Al Ghadeer, which is covering the operations of groups fighting ISIL alongside the Iraqi military.