German protesters call for end to nuclear power as they remember Fukushima
Comments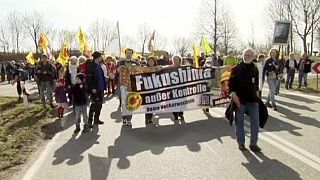 Thousands of demonstrators have called for an end to nuclear energy during a rally in Neckarwestheim, in southern Germany.
They gathered in the town, home to a nuclear plant, to remember Japan's Fukushima disaster four years ago.
Protesters chanted "switch off," while holding banners reading "Fukushima out of control" and carrying mock coffins.
An earthquake and tsunami struck the Fukushima Daiichi plant, 220 kilometres northeast of Tokyo, in March 2011.
It sparked nuclear meltdowns, forcing more than 160-thousand residents to flee from nearby towns and contaminating water, food and air.