US police kill unarmed black teen
Comments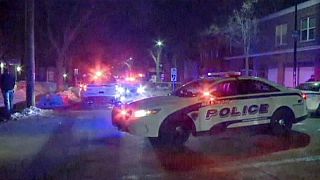 Police in the American state of Wisconsin shot dead an apparently unarmed African American teenager on Friday, leading to protests at the site of the killing in the state capital, Madison.
Local media have identified the victim as 19-year-old Anthony Robinson.
Madison Mayor Paul Soglin said that there would be an out-of-area investigation into the killing, as required by a newly passed state law.
"It's a tragedy beyond description," Soglin told the Wisconsin State Journal. "I expect there will be a lot of anger and frustrations."
Friday's killing comes at a time of heightened scrutiny of US police violence against minorities, following the fatal shooting of Michael Brown in Ferguson, Missouri last August.
Saturday also marks the 50th anniversary of the Selma to Montgomery civil rights march, when 600 people walked an Alabama highway to highlight the discriminatory practices that denied many black Americans their right to vote.
March 7, 1965 became known as 'Bloody Sunday' after police attacked demonstrators with teargas and clubs, injuring 84 people.
US President Barack Obama is scheduled to make a speech on Saturday at the bridge in Selma where the police attack took place.