Mali PM condemns Bamako attack as act of 'indiscriminate violence'
Comments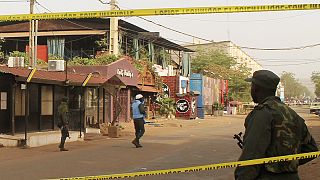 Mali's prime minister has described a deadly militant attack in Bamako as an act of "indiscriminate violence."
Mobido Keita was speaking as he visited the scene with the country's president.
Five people, including a French citizen and a Belgian security officer, were killed in the attack, which began when a masked gunman sprayed bullets in a restaurant popular with foreigners.
A Mauritanian website said it has received a video from the armed Islamist group Al-Mourabitoun that claims responsibility for Saturday's violence, apparently in reprisal for the killing by French troops of one of their senior commanders.
There was no immediate verification of the video.
French forces led a military operation in early 2013 that largely expelled al-Qaida-linked extremists from a vast area they had controlled in northeastern Mali.
The military operation in that region continues, with sporadic combat and clashes taking place.
Violence has been rare in Bamako despite the continued upheaval in the north.