France says Mali attack will strengthen resolve to fight terrorism
Comments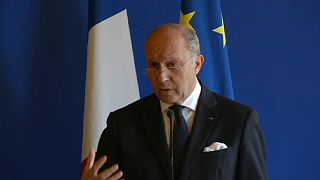 A militant attack, which has left five people dead in the Malian capital Bamako, is being condemned in Europe.
Appearing alongside John Kerry in Paris, France's foreign minister said the deadly violence will strengthen his country's resolve to fight terrorism in "all its forms."
"This happened at the same time as a peace agreement for Mali is presented. This terrorist and cowardly act is very hard to accept," added Laurent Fabius.
Mali's government recently signed a preliminary peace proposal meant to end fighting with northern separatists, but Tuareg-led rebels have demanded more time.
Belgium's foreign minister, Didier Reynders, has also described the Bamako attack as cowardly, one against peaceful people.
EU foreign policy chief Federica Mogherini re-iterated efforts to fight terrorism and said the dead Belgian security officer was with the EU delegation in Mali.
Meanwhile, the French embassy in Mali says it has beefed up security.