Ukraine parliament votes to boost size of armed forces
Comments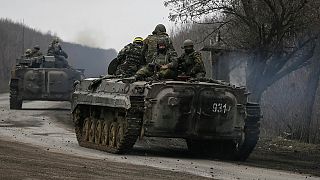 Ukraine's parliament has voted to increase the country's armed forces by a third to 250,000 personnel.
Kviv is taking no chances, despite the fragile ceasefire in the east.
President Petro Poroshenko's initiative was passed easily and now only needs his signature to become law.
"In just two months, renewal of full-scale military action is very likely," Yuriy Lutsenko, the leader of the Poroshenko Bloc told deputies.
"And every day when we enter this chamber, we must think about what we have done to stop the aggressor, prevent excessive losses and return all of Ukraine's territory."
NATO has said the ceasefire deal struck three weeks ago in Minsk is holding overall. Amid reports of sporadic fighting, it has urged both sides to continue to withdraw artillery from the frontline.
Denying claims it has sent troops into Ukraine, Moscow has hit back at Kyiv and its Western allies.
Russian foreign ministry spokesman Alexander Lukashevich said as many as 300 American servicemen, normally based in Italy, are being deployed in the Yavorsky military base in Ukraine's Lviv province.
"These servicemen will teach Ukrainian soldiers how to use overseas weaponry," he told reporters.
US Army Europe commander Ben Hodges said last month that the US military would provide training to Ukrainian troops battling Russian-backed separatists in the east.
But Washington now says that mission has been put on hold to encourage the successful implementation of the Minsk ceasefire.