Singapore sentences Germans to caning and jail time
Comments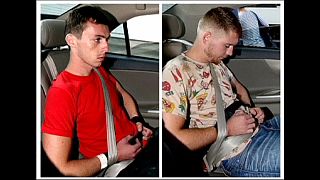 Two Germans have been sentenced to nine months in a Singapore prison and three strokes of the cane.
Elton Hinz, 21, and Andreas Von Knorre, 22, admitted breaking into a depot and spray-painting graffiti onto a commuter carriage.
Both expressed remorse for their actions.
Caning is a common punishment in Singapore, handed out for crimes such as vandalism, kidnapping, robbery and drug and sexual abuse.