Mobile World Congress: Let the battle begin!
Comments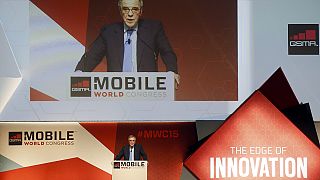 The fierce battle for slices of the lucrative telecoms market is on show in Barcelona at the Mobile World Congress.
More than 1800 exhibitors are presenting their products to tens of thousands of visitors.
Euronews correspondent Claudio Rocco said: "With over a billion smart phones sold in the past year, the business is huge.
"Historical manufacturers of smart phones are trying to counter the assault of the Chinese, who are becoming increasingly aggressive in the market."
Apple has shunned the congress, favouring its own trade events.
Among the highlights so far,
Samsung has launched its new Galaxy smartphones and Microsoft unveiled new Lumia phones.
Olivier Lagreou from Microsoft France told euronews: "In the European market and in other countries we currently have over 10% of the market share.
"The Lumia 640 and 640 XL, with slightly larger screens, respond to the market demand, and we hope to continue to increase our market share."
But there is also huge interest in the likes of new smart watches and mobile phone payment technology …. all to satisfy the growing thirst for better and more useful functions.