Japan: Was brutal murder of boy, 13, inspired by ISIL?
Comments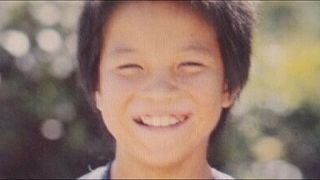 Three teenage boys have been arrested in Japan after the brutal murder of a thirteen-year-old.
Ryota Uemura's naked body was found slashed and beaten just over a week ago near a river in the Kawasaki suburb of Tokyo.
According to one of his friends, he had feared for his life after being subjected to escalating bullying by a group of older boys.
The eldest of the three suspects, an 18-year-old, has chosen to remain silent, while the other two – both 17 – deny any involvement.
The arrests were based on security footage recorded near where his body was found, as well as Uemera's posts on an online messaging application.
Weekly magazine Shukan Shincho reported the injuries appeared to indicate Uemero's killers may have been trying to decapitate him.
The publication quoted an unnamed police source as saying the killers were suspected of attempting to mimic the execution of hostages by ISIL.