Ukraine: Reports of fresh casualties put truce under strain
Comments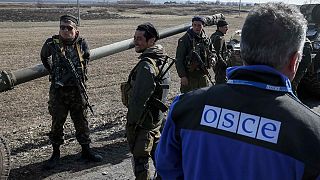 Reports suggest three Ukrainian soldiers were killed in fighting in the east of the country on Friday (February 27).
It is unclear whether there have been any casualties on the side of the separatists.
In the eastern city of Soledar, under the watchful eye of OSCE observers, the ceasefire appears to be being upheld. According to the OSCE's Laurence Couture Gagnon, heavy weapons are being withdrawn from the area.
However our correspondent, Sergio Cantone, reports a certain feeling of scepticism about the truce, with both sides seeming to expect the worst. After 48 hours of apparent calm, there are reports of renewed fighting in the separatist capital Donetsk and elsewhere.