Spanish police arrest men accused of fighting with Ukraine separatists
Comments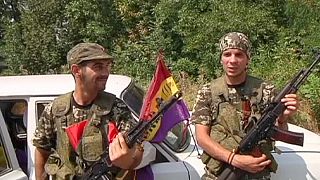 Spanish police have arrested eight men who recently returned from Ukraine after allegedly fighting alongside pro-Russian separatists.
Authorities say all of those arrested are Spaniards and they are likely to face charges of complicity in homicide and possession of illegal weapons.
Authorities say the men were identified partly by information posted online, including photographs and videos.
It is reported the men spent several months fighting in Ukraine.
The government in Kyiv estimates that some 30,000 foreign fighters are supporting the separatists, mostly Russians.
But they say there are also mercenary fighters from countries including Spain, Italy, Israel and Serbia.