Watch: Llama drama as daring duo give hapless captors the slip
Comments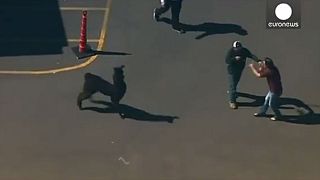 Two plucky llamas evaded recapture for more than an hour in the US, enthralling viewers who tuned into the unfolding spectacle.
Live news footage captured each twist and turn of the "llama drama" in Sun City, Phoenix.
The duo ran amok in a retirement village, regularly skipping away from hapless would-be captors at the last moment.
The footage captivated television news audiences and delighted viewers on social media, who made #llamas a top trending hashtag on Twitter.
After a chase lasting almost an hour, the pair became separated and the black llama was caught. Its boisterous white counterpart was eventually lassoed by a man from the back of a pickup truck.
Police said the pair escaped from a mobile petting zoo while it was visiting an assisted living centre as a form of animal therapy, and that they had been returned to their owners.
The Maricopa County Sheriff's Office said no criminal charges would be filed.