Series of homemade explosions rock Cairo
Comments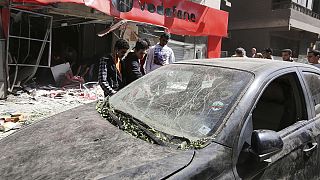 Egyptian security officials said a series of explosions on Thursday in Cairo has killed at least one person and wounded seven.
The blasts were the latest in a wave of attacks that used home-made explosives that authorities blame on Islamic militants.
Sameer Al Gamal lives in the building where one of the attacks took place.
"I woke up to the sound of the blast," he explained. "I found all the windows of the balcony shattered. I quickly ran downstairs to the front of the building and found the apartment door damaged. I went outside and found a man lying on the ground between life and death."
A later blast outside a police station in the capital's Warraq district wounded four people including a police conscript.
Egypt has seen a buildup of militant attacks since President Mohammed Morsi was ousted in 2013.