Mystery drones over Paris for second night raises concerns
Comments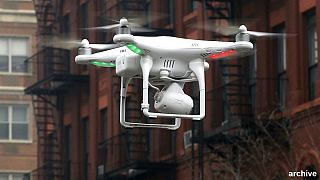 Drones have been seen flying over tourist hot spots in Paris for the second night in a row. That has raised concerns in a city already on high alert.
Police are working to track down whoever is controlling the small unmanned aircraft that have been seen in the vicinity of the Elysee Palace, the Eiffel Tower, Place de Concorde and the American Embassy.
"We don't know whether there are five drones or one drone seen in five locations. The timings of the sightings have not been clearly established," explained Jean-Marc Tanguy, a journalist specialising in military issues. "It could be someone controlling these drones through a window, and if they're in the city centre they don't need to move to cover a big area. Now the problem is to detect where these drones are being controlled from."
As the drone mystery deepens, experts point out that the ones seen flying over Paris landmarks are not military drones like the ones deployed over war zones like Syria and Iraq armed with bombs and missiles.
"These machines that weigh between 500 grams and one kilo," said drone expert Emmanuel de Maistre. "They can only carry a maximum weight of a few hundred grammes They're usually used to take photographs. They can not carry anything dangerous."
An investigation was launched in October after drones were spotted flying over French nuclear plants.
Following the Paris attacks police are taking the most recent drone signtings very seriously.