Drone mystery in Paris sparks security scare
Comments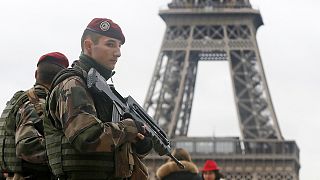 French police are hunting for clues as to who carried out night drone flights over landmarks in Paris.
We can't decipher whether we're talking about professionals or geeks.
The unmanned aerial vehicles (UAV) were spotted at five different locations including the US Embassy and the Eiffel Tower but the operators and their motives remain a mystery.
The first drone was spotted just after midnight and the last around 6am local time, sparking a massive police search, but they were unable to determine the exact number of drones sighted. The capital is on high alert following the attacks in January.
Though drones are easily found in shops, sightings in sensitive locations in recent months have raised concerns.
"For the moment, what we've seen since these drone flights over nuclear plants began at the end of October, is that there are no projectiles. These drones are not crashing into the ground either," explained a journalist specialised in military issues, Jean-Marc Tanguy. "So these drones are being used by people who know how to operate them, though we can't decipher whether we're talking about professionals or geeks. It could just be teenagers who are capable of operating these little engines that you can be found in many shops."
Flights in Paris are banned under 6,000km and the first drone sighting was 100-300m above the US embassy. An investigation was thus launched for 'flight in a forbidden zone'. Interviews have begun with eyewitnesses in order to determine the flight paths of the UAVs.
In October French police arrested three people near a nuclear reactor who were found in possession of a drone.
UAVs have a variety of uses from military operations to surveillance as well as filmmaking and research. However, with the recent attacks in the capital, the French authorities are taking the sightings very seriously.