Blind man sees wife for the first time in ten years
Comments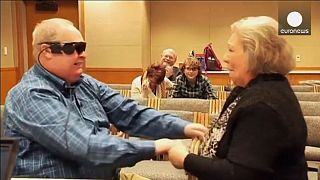 Sometimes you don't have to turn to the Hollywood movie makers for that heart-warming story, the one that starts with tragedy, and ends in triumph. The tale that tests a man's courage, that flows with emotional highs and lows while all time there is a romantic thread twisting and turning until the story's end when the hero sees his wife for the first time in ten years.
Witness the life of Allen Zderad from Minnesota. He began losing his sight as a result of a degenerative eye disease called retinitis pigmentosa.
The disease meant he had to give up his career as a chemist as there is no effective cure. Because of his lack of clear sight and unable to see anything but bright light he adjusted by developing his sense of touch.
But there was quite literally a "bionic" change in his life thanks to the Mayo Clinic
For the first time in a decade the 68-year-old was able to make out human forms and outlines of objects like chairs and tables – he even saw his reflection as a silhouette in a window. It was the first inkling he had that his "new eyes" would work.
The grandfather of ten lunged out to grab his wife's hands. They both broke into tears.
The video from the clinic shows the emotional moment Mr. Zderad is able to see is wife again after a decade. He explains what is happening before his eyes, saying he is able to make out those around him, thanks to the work of the physician Raymond Iezzi Jr., M.D. at the Mayo clinic.
A tiny wafer-like chip was embedded in his right eye, wires attached in a surgical procedure in January, then two weeks later, the rest of the prosthetic device set in glasses was activated.
Behind Allen Zderad's story there has been years of research and development before the system which has enabled him to see again went into production.
Three years ago euronews featured another bionic eye plant with a different technology.