Czech Republic shooting 'an isolated act'
Comments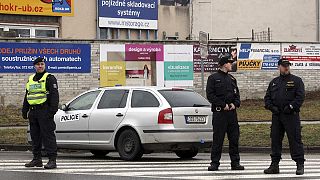 Eight people have been killed in a shooting in the eastern Czech town of Uhersky Brod, the CTK news agency reported. The suspected shooter was among the dead.
Local Mayor Patrik Kuncar said "I assume this was an isolated incident. I cannot see security measures that would prevent incidents like this."
Local media reported that a man burst into the Družba restaurant before opening fire.
There were said to be 20 people in the restaurant at the time and around 25 shots were heard. The suspect was said to be a local resident in his sixties.
MIMOŘÁDNÉ VYSÍLÁNÍ: Střelba v restauraci #Družba v Uherském Brodu má až 9 mrtvých. Čekáme na informace policie. pic.twitter.com/bl6Hxp1OoI

— ČT24 (@CT24zive) February 24, 2015
Fotografie z Uherského Brodu... Autor: Facebook / Michal Švestka pic.twitter.com/pZLlkSEjAO

— Policejní Deník (@PolicejniDenik) February 24, 2015
The Interior Minister is flying to the scene to oversee the police investigation
The Prime Minister Bohuslav Sobotka said he was 'shocked' to hear the news.
#TJEKKIET: Premierminister Sobotka: "Jeg er ligesom de fleste borgere chokeret over det tragiske angreb (..) i #UherskyBrod" VIA @strakovka

— 22Skammelsen (@22Skammelsen) February 24, 2015
The mayor said he never would have imagined such an event happening in the town in a restaurant he knows very well.
The town of Uhersky Brod lies 300km southeast of Prague.
https://www.google.co.uk/maps/place/Uhersky+Brod,+Czech+Republic/@49.0313108,17.6597171,7z/data=!4m2!3m1!1s0×4713691248f04eb5:0×88c233b07e63c72e