Kyiv 'Dignity March' attracts thousands
Comments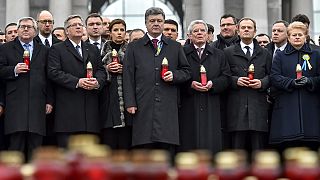 A 'Dignity March' in Kyiv has attracted thousands of Ukrainians, including the country's president, Petro Poroshenko.
Dignitaries, including current European Council President Donald Tusk, joined the walk through Ukraine's capital in memory of those who were shot dead during the bloody anti-government protests in 2014.
Our correspondent Maria Korenyuk attended the march:
"Its route is symbolic. People are marching through the same streets where demonstrators were shot dead," she told us.
More than a hundred activists were killed by riot police during the February 2014 rallies in the capital.
One man told euronews:
"We're asking God to give peace to our state. We want peace! And we want Ukraine to win! We took part in the revolution for our children and we will die for them… and Ukraine!"
The Kyiv march ended on Independence Square. Historically significant as the site of political gatherings, the square was the scene of several violent protests during the turbulence in 2014 and has since become a shrine to those who lost their lives.
Representatives from a number of religious denominations also gathered at the square to hold a special 'Prayer of Peace' service.