Tunisians protest against terrorism in Tunis
Comments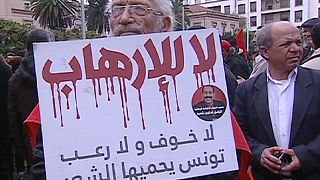 An anti-terrorism protest has drawn large crowds in Tunis.
Chanting "Free Tunisia, out with terrorism", the rally took place under a heavy police presence.
It comes shortly after Islamist militants linked to Al-Qaeda killed four soldiers on Wednesday. Both Nidaa Tunis and the Islamist party Ennahda called for supporters to join the march.
Basma Khalfaoui who became a popular icon of the anti-terrorism movement after her husband was assassinated in 2012 said, "Condemnation is not enough , but it is a means to express our rejection of this phenomenon and our unity in the face of it. There are other measures which should be taken by the government especially the interior ministry and the head of government."
The government are currently considering a new raft of anti-terror measures which many are keen to see enforced.
Since the Jasmine revolution in 2011, Tunisia has been waging a campaign against Islamist insurgents who are entrenched in the Chaambi mountain range.