Ukraine accuses Russia over Kyiv sniper killings as it marks first anniversary
Comments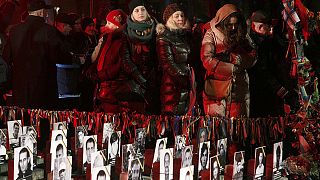 Lights filled the sky but the mood was sombre in Kyiv's Independence Square on Friday (February 20). Ukrainians gathered to mark the first anniversary of the deaths of over 100 protesters during the bloodiest days of the uprising that toppled pro-Moscow president Viktor Yanukovych and culminated in war.
"We were here one year ago," one woman told euronews.
"I still keep cartridge cases we found after the shooting. All those people are our children."
Tens of thousands headed to observe the anniversary at the square in the heart of the capital, known locally as "the Maidan" and revered by Ukrainians as a platform of a revolution that turned the country away from Russia and towards Europe.
"We want to pay tribute to those people who broke the deadlock, who awakened the 'Ukrainian' spirit within us," a woman said, holding a small child in her arms.
But the mood among many is of disillusionment and resentment that no-one has yet been put on trial for the killings, in what some see as a cover-up.
"I'm upset because of this and I can't hide my tears because nobody has been brought to justice," said a man wearing combat fatigues, sported by some as a sign of allegiance to pro-government militias that have fought alongside Kyiv's troops against pro-Russian separatists.
Ukraine's President Petro Poroshenko has accused an aide to Russia's Vladimir Putin of being behind the sniper killings in Kyiv – a claim dismissed as 'madness' by the Foreign Ministry in Moscow.
Our correspondent in Kyiv, Maria Korenyuk, said: "On the eve of the anniversary, the special spotlights were put in the places where activists were killed. The light from them reaches the sky, symbolising the souls of Maidan protesters, who gave their lives for Ukraine."
Ukraine's death toll since the Kyiv protesters were killed has risen sharply amid the conflict in the east.
More than 5,600 people have died in fighting since mid-April 2014, soon after Russia annexed Crimea from Ukraine following Yanukovych's overthrow.