One year on, Ukraine remembers Maidan's bloodiest day
Comments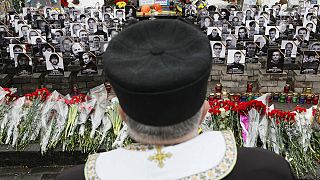 One year ago Maidan Square in Kyiv transformed from a protest site into a killing ground. Over three days up to 100 people were shot dead as riot police clashed with anti-government protesters.
After months of protests, confrontations erupted on February 20, 2014. Security forces and anti-government protesters clashed in Independence Square in Kyiv and shots were fired. By February 20, the death toll had reached 100. Demonstrators blamed government snipers, while President Yanukovych blamed the protesters for stoking the violence. The controversy continues, as the head of Ukraine's security forces, quoted on Ukrainian news agency UKRINFORM, said that Vladislav Surkov, a close ally of Putin was involved in managing groups of snipers.
Yanukovych fled the country and his government collapsed, which led to Russia's annexation of Crimea and the conflict in the east, which has claimed more than 5,000 lives.
Now a site of tributes, Ukrainians remember those who lost their lives in the killings in Maidan.
"A year has already passed. We are learning to live without a dad, without a husband. It seems like everything happened yesterday," says Natalya Boykiv who lost her husband. "I remember everything, every gesture, his every step, smile, every phrase."
For Volodymyr Kulchystky, who lost his father, he remembers the electric atmosphere of the protests that day saying "you let people get close to you, as you knew you were in danger. This is what made Maidan different, you were getting this kind of energy."
The photos of the fallen, known as the 'heavenly hundred', adorn the square where they once stood against a government which collapsed in the wake of the killings. The memorials take place amid a tense atmosphere with continued fighting in the east of the country. The head of Ukraine's security forces has warned people to remain vigilant of an attack as the memorials take place across the weekend.