Greece confident about loan extension ahead of eurogroup talks
Comments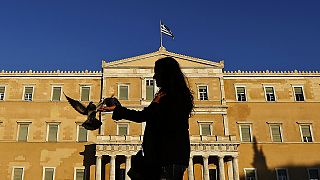 Greece's prime minister Alexis Tsipras said on Friday he was certain that eurozone finance ministers would accept Athens' loan extension. request.
His finance minister Yanis Varoufakis said, before talks got underway, that Greece had gone "not just the extra mile, but the extra ten miles" and it was up to its partners to go the rest of the way.
"I believe that this whole issue with the money, Grexit and so on is not possible," said Athens resident Varvara Voukolatou. "These things are not real. If someone seriously studies economics, they will understand that. Countries are being tormented, I believe, for nothing."
Euronews spoke to economic analyst Napoleon Maravegias who warned that a rejection of Greece's loan extension request would have serious consequences for everyone.
"Greece doesn't want that because they know very well that the cash will run out and Europe doesn't want that. A Greek exit could be catastrophic for other countries as well," said Maravegias.
Euronews correspondent Stamatis Giannisis reported from Athens.
"Greece claims that it has already made serious concessions to avoid negotiations breaking down including taking back many of its pre-election promises. But this doesn't seem good enough some of its eurozone partners, particularly Germany," said Giannisis.