FIFA: Luis Figo's presidential bid
Comments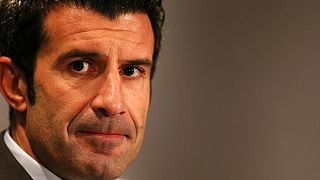 Portugal's Luis Figo announced on Friday he would consider a bigger World Cup if he is elected to replace Sepp Blater as FIFA president.
The tournament's current format involves 32 teams but the former Real Madrid winger wants to add eight or 16 more, with a focus on more teams from outside of Europe getting to the finals.
He has also pledged to restore FIFA's reputation by rebuilding the governing body's credibility.
Figo is the only former player standing in May's election, which also features Dutch football association chairman Michael van Praag and FIFA vice president Prince Ali Bin Al Hussein.