Libya urges UN to lift arms embargo in fight against ISIL militants
Comments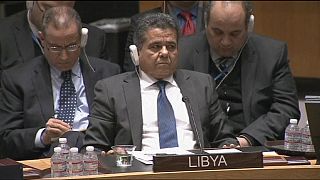 The UN Security Council has been urged to lift an arms embargo on Libya to enable its internationally recognised government to tackle ISIL and other militants.
Libya's request is backed by Egypt which also wants a naval blockade imposed in areas not under Libyan government control – to stop weapons getting through to the Islamists.
Calling for a decisive stance from the international community, Libyan Foreign Minister Mohamed Dayri told the Security Council that his country needed the weapons embargo lifted so that its army could deal with "rampant terrorism".
The Security Council met to discuss Libya after ISIL released a video showing the beheading of 21 Egyptian Christians who had been kidnapped there.
Egypt responded with air strikes on militant camps and other targets in the almost lawless country where two competing governments backed by militia brigades are scrambling for control, nearly four years after the fall of Muammar Gaddafi.