Italy and Arab League call for international response to boost security in Libya
Comments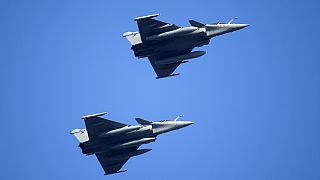 The Arab League and Italy have called for urgent action to halt Libya's slide into chaos.
The UN Security Council is due to meet later tonight to discuss the power struggle within the North African state.
According to Middle East analyst Morad Fathy, Arab League leaders are looking for a joint declaration to fight against terrorism.
Egypt wants a UN resolution mandating an international coalition. Its air force has already bombed several Islamic State militant targets this week, the first time that it has directly intervened in the conflict.
Cairo says it launched the strikes in retaliation after ISIL released a video showing the murder of 21 Egyptian Coptic Christians.
Italy has sent mixed signals about its readiness to join any military intervention but it has expressed concerns about possible alliances between local militias and ISIL.
Italy's watched in alarm as hundreds of thousands of migrants have arrived on its southern islands.
Rome believes the massive rise in migrant numbers is clearly connected with the security situation in Libya. Italy ended its "Mare Nostrum" search and rescue mission in October but the EU backed Triton mission has been widely criticised as woefully inadequate.